Review: The three Ages of Interior Life
Garrigou- Lagrange: The three Ages of Interior Life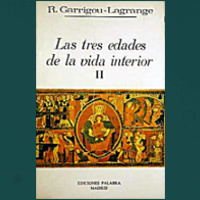 Las tres edades de la vida interior
I. Reginald Garrigou-Lagrange. Colección:Pelícano. Editorial:Palabra. Edición: 11ª, enero 2007. ISBN: 978-84-8239-047-5

Réginald Marie Garrigou-Lagrange, O.P. (1877–1964) was a French Catholic theologian. He has been noted as a leading neo-Thomist of the 20th century, along with the likes of Jacobus Ramírez, Édouard Hugon, and Martin Grabmann.

He taught at the Dominican Pontifical University of St. Thomas Aquinas, Angelicum in Rome from 1909 to 1960. Here he wrote his magnum opus, The Three Ages of the Interior Life (Les Trois Ages de la Vie Interieure) in 1938. In 1918 Garrigou initiated courses in sacred art, mysticism, and aesthetics at the Angelicum influencing the likes of future liturgical artists such as Marie Alain Couturier, who studied theology there from 1930 to 1932

He was born Gontran-Marie Garrigou Lagrange on February 21, 1877, in Auch, near Toulouse France. While studying medicine at Bordeaux he experienced what he described as a religious conversion after reading Life, Science, and Art by the Breton writer Ernest Hello (1828–85).

He joined the French Dominicans, studied and taught at Le Saulchoir, before moving to Rome, where he lectured at the Angelicum from 1909 until his retirement in 1960. In 1917 a special professorship in ascetical and mystical theology was created for him at the Angelicum, the first of its kind anywhere in the world. He is best known for his spiritual theology.

His magnum opus in the field is The Three Ages of the Interior Life (Les Trois Ages de la Vie Interieure), in which he propounded the thesis that infused contemplation and the resulting mystical life are in the normal way of holiness of Christian perfection.

This influenced the section entitled "Chapter V: The Universal Call to Holiness in the Church" in the Second Vatican Council's Dogmatic Constitution on the Church, Lumen Gentium. His great achievement was to synthesise the highly abstract writings of St Thomas Aquinas with the experiential writings of St John of the Cross, attempting to show they are in perfect harmony with each other.
---
16/01/2015 09:00:00