Review: The Story of Art
Sir Ernst Hans Josef Gombrich: The Story of Art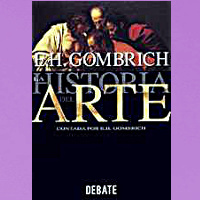 LA HISTORIA DEL ARTE
(16ª ED.) (EN PAPEL) E. H. GOMBRICH , PHAIDON PRESS LIMITED, 2008 ISBN 9780714898704

Sir Ernst Hans Josef Gombrich, OM, CBE (30 March 1909 – 3 November 2001) was an Austrian-born art historian who became a naturalised British citizen in 1947 and spent most of his working life in the United Kingdom. He was the author of many works of cultural history and art history, most notably The Story of Art, a book widely regarded as one of the most accessible introductions to the visual arts.

The son of Karl Gombrich and Leonie Hock, Gombrich was born in Vienna, Austria-Hungary, into an assimilated bourgeois family of Jewish origin who were part of a sophisticated social and musical milieu. His father was a lawyer and former classmate of Hugo von Hofmannsthal and his mother was a distinguished pianist who graduated from the Vienna Conservatoire with the School's Medal of Distinction.

At the Conservatoire she was a pupil of, amongst others, Anton Bruckner. However, rather than follow a career as a concert pianist (which would have been difficult to combine with her family life in this period) she became an assistant of Theodor Leschetizky. She also knew Arnold Schoenberg, Gustav Mahler, Hugo Wolf and Johannes Brahms. Rudolf Serkin was a close family friend. Adolf Busch and members of the Busch Quartet regularly met and played in the family home.

Throughout his life Gombrich maintained a deep love and knowledge of classical music. He was a competent cellist and in later life at home in London regularly played the chamber music of Haydn, Mozart, Schubert, Beethoven and others with his wife and his elder sister Dea Forsdyke, a concert violinist. Gombrich was educated at Theresianum Secondary School and at Vienna University before coming to Britain in 1936, where he took up a post as a research assistant at the Warburg Institute, University of London. In 1936, he married Ilse Heller, a pupil of his mother, and herself an accomplished pianist.

Their only child, Richard Gombrich, went on to become a noted Indologist and scholar of Buddhism, acting as the Boden Professor of Sanskrit at Oxford University from 1976 to 2004. During World War II, Gombrich worked for the BBC World Service, monitoring German radio broadcasts. When in 1945 an upcoming announcement was prefaced by a Bruckner symphony written for Wagner's death, Gombrich guessed correctly that Hitler was dead and promptly broke the news to Churchill. He returned to the Warburg Institute in November 1945, where he became Senior Research Fellow (1946), Lecturer (1948), Reader (1954), and eventually Professor of the History of the Classical Tradition and director of the institute (1959–72). He was elected a Fellow of the British Academy in 1960, made CBE in 1966, knighted in 1972, and appointed a member of the Order of Merit in 1988.

He was the recipient of numerous additional honours, including Goethe Prize 1994 and Balzan Prize in 1985 for History of Western Art. Gombrich was close to a number of Austrian émigrés who fled to the West prior to the Anschluss, among them Karl Popper (to whom he was especially close), Friedrich Hayek and Max Perutz. He was instrumental in bringing to publication Popper's magnum opus The Open Society and Its Enemies. Each had known the other only fleetingly in Vienna, as Gombrich's father served his law apprenticeship with Popper's father. They became lifelong friends in exile. The Story of Art, first published in 1950 and currently in its 16th edition, is widely regarded as one of the most accessible introductions to the history of visual arts. Originally intended for adolescent readers, it has sold millions of copies and been translated into more than 30 languages.
---
02/01/2015 09:00:00