Review: Baptismal catechesis
The baptismal catechesis of St. John Chrysostom present us a beautiful fountain on the baptismal liturgy of the early Church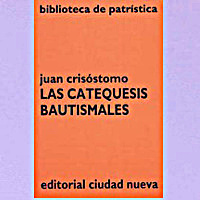 John Chrysostom (Greek: Ἰωάννης ὁ Χρυσόστομος), c. 347 – 407, Archbishop of Constantinople, was an important Early Church Father. He is known for his preaching and public speaking, his denunciation of abuse of authority by both ecclesiastical and political leaders, the Divine Liturgy of St. John Chrysostom, and his ascetic sensibilities. The epithet Χρυσόστομος (Chrysostomos, anglicized as Chrysostom) means "golden-mouthed" in Greek and was given on account of his legendary eloquence.

The Orthodox and Eastern Catholic Churches honor him as a saint and count him among the Three Holy Hierarchs, together with Basil the Great and Gregory Nazianzus. He is recognized by the Eastern Orthodox Church and the Catholic Church as a saint and as a Doctor of the Church. Churches of the Western tradition, including the Roman Catholic Church, some Anglican provinces, and parts of the Lutheran Church, commemorate him on 13 September. Some Lutheran and many Anglican provinces commemorate him on the traditional Eastern feast day of 27 January. The Coptic Orthodox Church of Alexandria also recognizes John Chrysostom as a saint (with feast days on 16 Thout and 17 Hathor).

Among his homilies, eight directed against Judaizing Christians remain controversial for their impact on the development of Christian antisemitism Beyond his preaching, the other lasting legacy of John is his influence on Christian liturgy. Two of his writings are particularly notable. He harmonized the liturgical life of the Church by revising the prayers and rubrics of the Divine Liturgy, or celebration of the Holy Eucharist. To this day, Eastern Orthodox and Eastern Catholic Churches of the Byzantine Rite typically celebrate the Divine Liturgy of St. John Chrysostom as the normal Eucharistic liturgy, although his exact connection with it remains a matter of debate among experts.
---
15/12/2014 09:00:00